I've help build internet communities that have generated hundreds of millions of members
The most often question I get asked is:
But Greg - how do I build a community from scratch?!
Here's what I usually say:
---
First, why you should care about community:
It's the best way to build a movement
It supercharges word-of-mouth
People want community more now than ever
Products built on-top of communities scale fast
If you unlock community, it's an unfair advantage
Img: @gapingvoid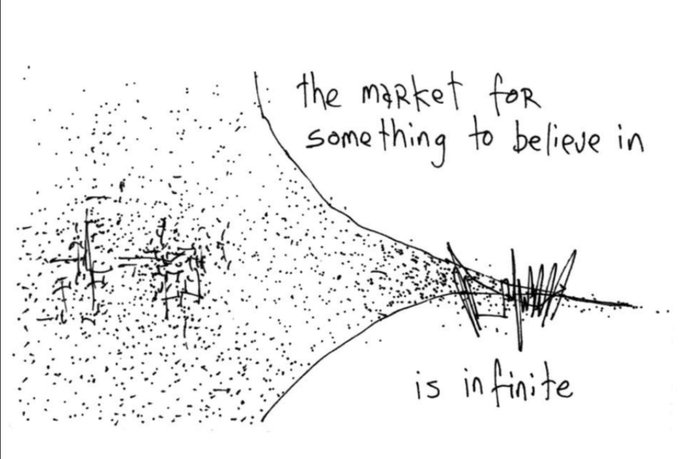 ---
Start small. Start tiny.
95% of communities can start as a simple group chat
A community only needs a shared purpose and a place to thrive
Don't overthink it
---
Weak community leadership kills communities
6 qualities of high-performing community leaders I've noticed:
Captivating
Consistent
Loud
Obsessed with the mission/people
Relentlessly helpful
Sincere
---
Invite-only works
95% of communities should begin as waitlists. B2B or B2C. Doesn't matter
Exclusivity and scarcity drives demand
Tip: waitlist communities outperform
---
Merch supercharges communities
You'd be surprised what designing incredible merch can do to a community
It gives them a "raison d'etre"
Example: @100Thieves
Tip: hire streetwear designers to design your merch
---
Get members where they want to go
The secret to community design: get members where they want to go (ie: milestones etc)
The best communities: move members
---
Who we are
I've never found a community that thrived that didn't have a compelling "who we are" story
Key points:
Describe the future utopia
Describe the cause with passion
Amplify the real reason they exist
Tip: tighten your who we are story and terrific things happen
---
Not all founding members are equal
Example: Clubhouse recruited well-known tech people in April 2020 and gave them a virtual place to hang out
Tip: your first members set the tone. Choose wisely
---
Community/market fit
Founders obsess about product/market fit. But don't obsess enough about community/market fit
How to build a startup in 2021:
Community/market fit
Product/market fit
Scale
---
Design rituals
Being in a Zoom call together isn't community building
The goal: Create daily/weekly rituals that make people feel alive and grateful to be apart of the community
---
Takeaways:
Human beings can't help it: we need to belong
The long term win is in building a community
Building a community is where art meets science. It's perfectly do-able
---
If you enjoyed this thread, share with your friends. The world needs more communities not less :)